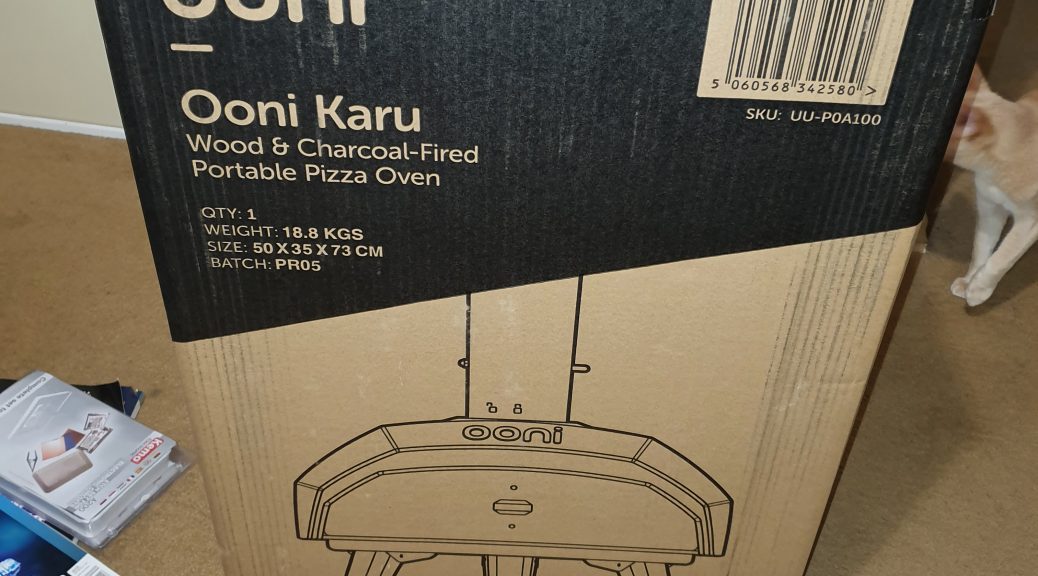 Ooni Karu Pizza Oven Review
Ooni Karu Pizza Oven Review
This is something I have been wanting to try for a while. In fact, since they did their first kickstarter so, being stuck at home with no prospect of holidays for a while, I decided what the heck and ordered an Ooni Karu pizza oven. I was debating between the Frya and the Karu but the concept of real wood as opposed to pellets, and being able to add gas later if I desired, finally won me over.
I ordered on the website at http://thepizzaovenstore.com.au with a promise of delivery first week of September. Their shipment was a little delayed due to 2020 but, I have to say, they provided excellent communication letting me know it was delayed and offering discount on other products. This was followed up with emails during the entire delivery process until the Karu was sitting at my door.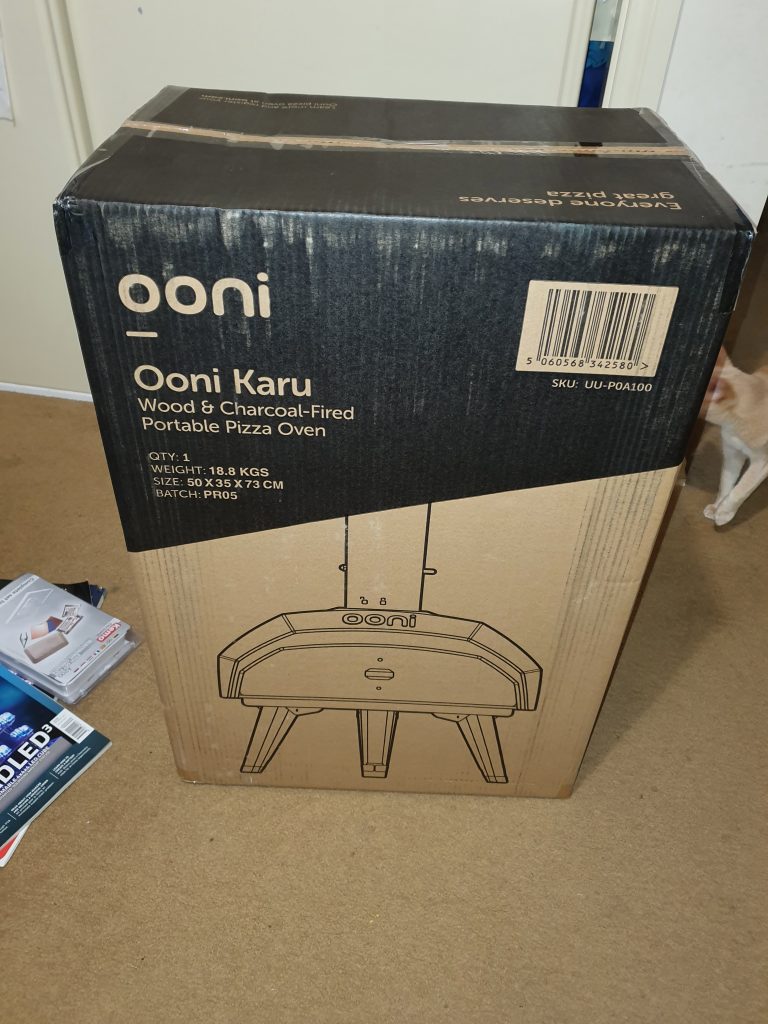 This oven is incredibly well packed, and all with eco friendly packing as well. It arrived on a Wednesday and I behaved myself until the weekend before getting around to setting it up. Ok, I set it up on the bench inside before then but I didn't light it.
Saturday came around and dough balls had to be made. I used the recipe off the Ooni app which gives a 60% hydration dough and around 5 hours from start to finish.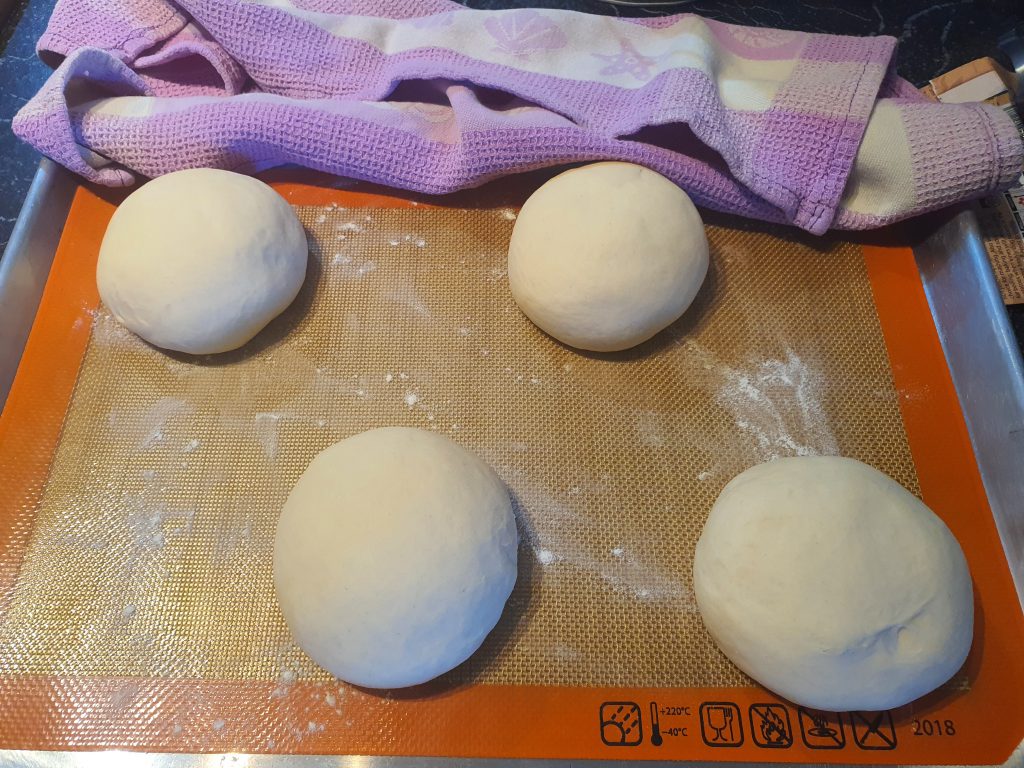 Pizza dough made and raising in the kitchen, time to setup the oven outside.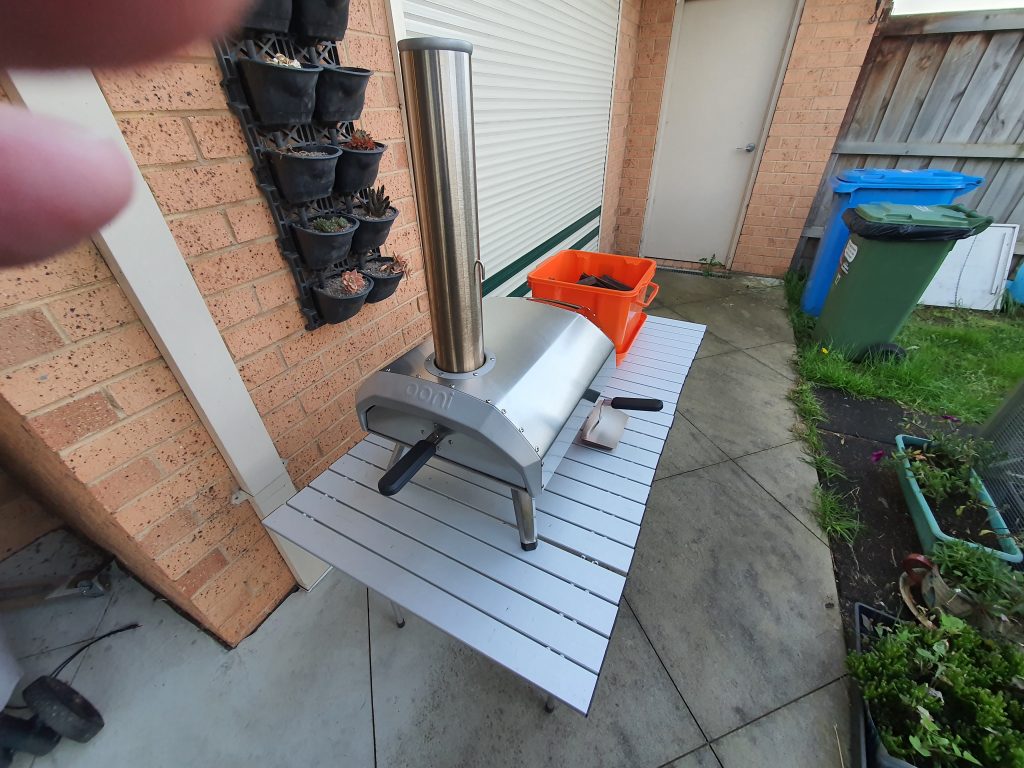 The orange tub contains kindling that has been split and cut into 6″ or so lengths. I think that was the scariest part of the setup, letting a 16 year old lose with a tomahawk. He did a pretty good job and split enough wood for about three cooking sessions. Ok, so we have the oven setup and wood split so time for the fire bug in be to let loose.
This thing is easy to light and didn't take long to develop a very good fire with nice flame curling over the top of the cooking stone.
After feeding that fire for about thirty minutes we had the prescribed temperature for cooking a Neapolitan Pizza.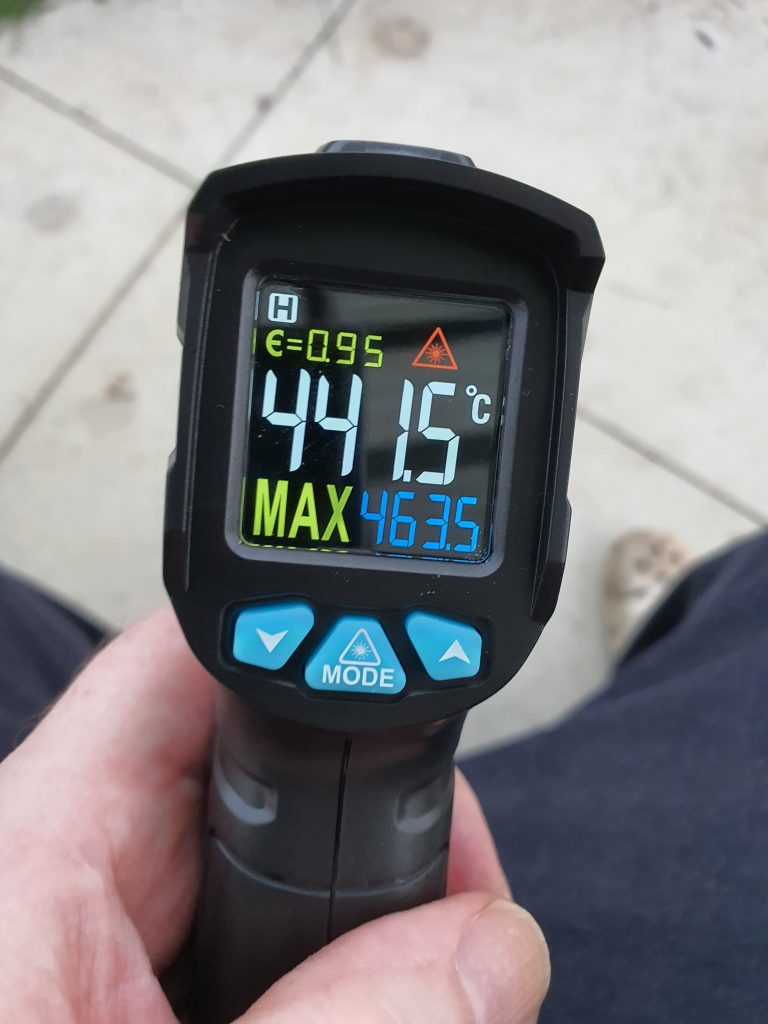 Ok, on with the cook. This thing cooks pizza's really fast. And I mean really fast, Dont pay attention and this is what happens: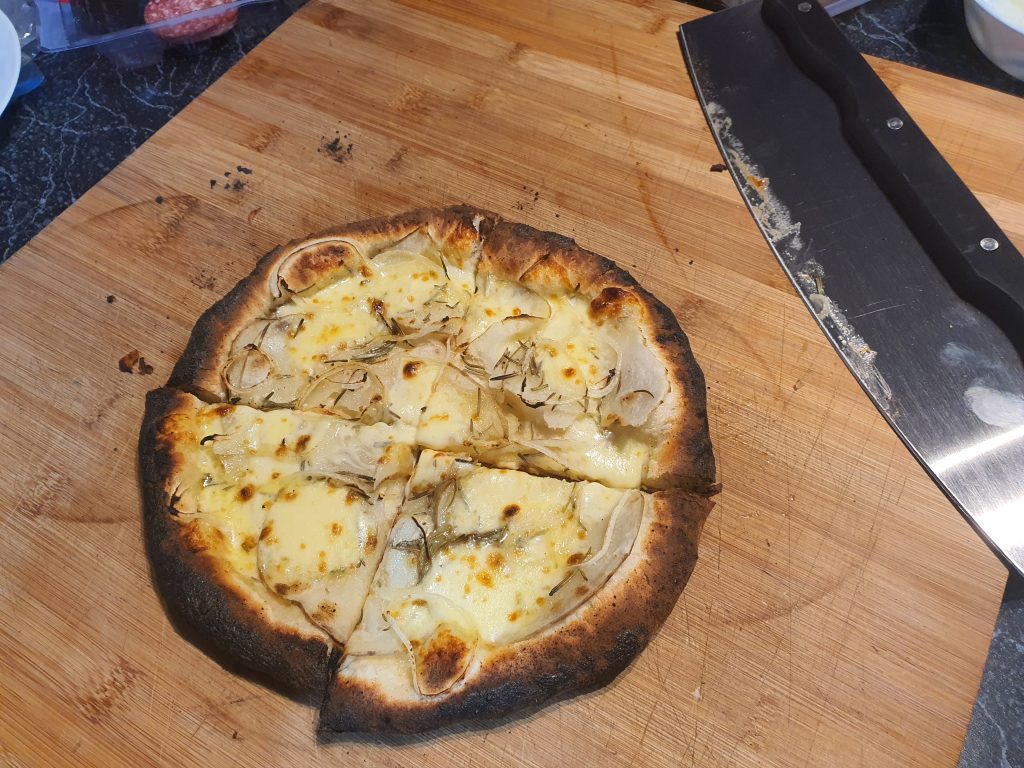 Got to love the taste of charcoal.
I have used the oven several times now and finally starting to get the feel for it. This is this last weekends results.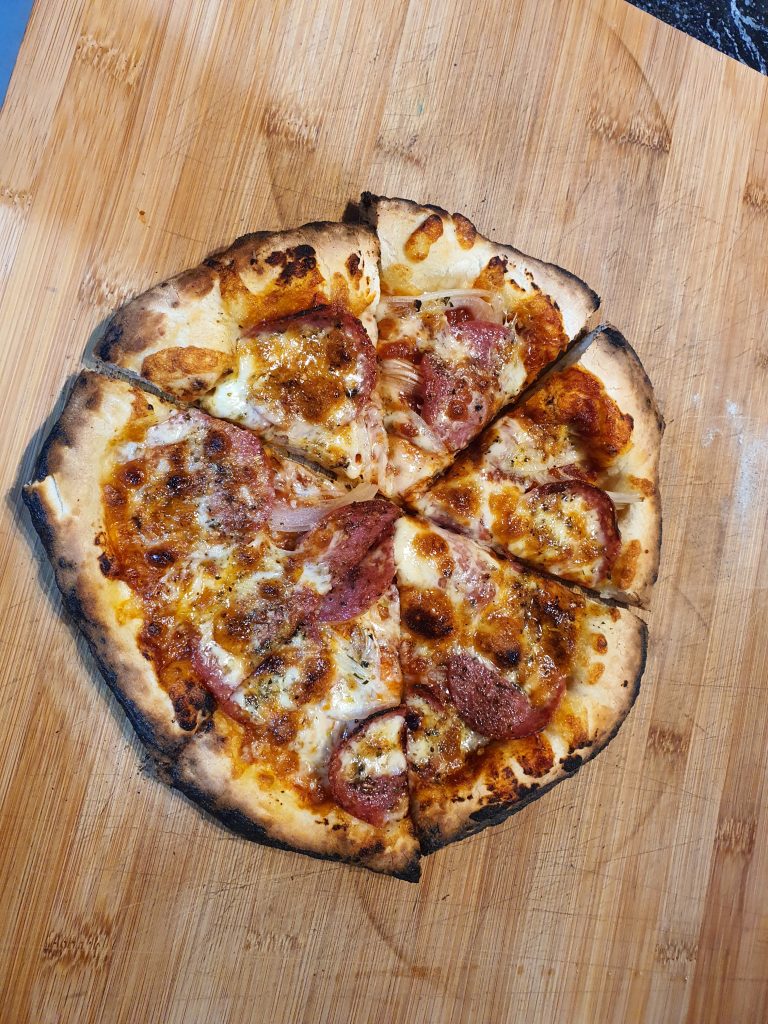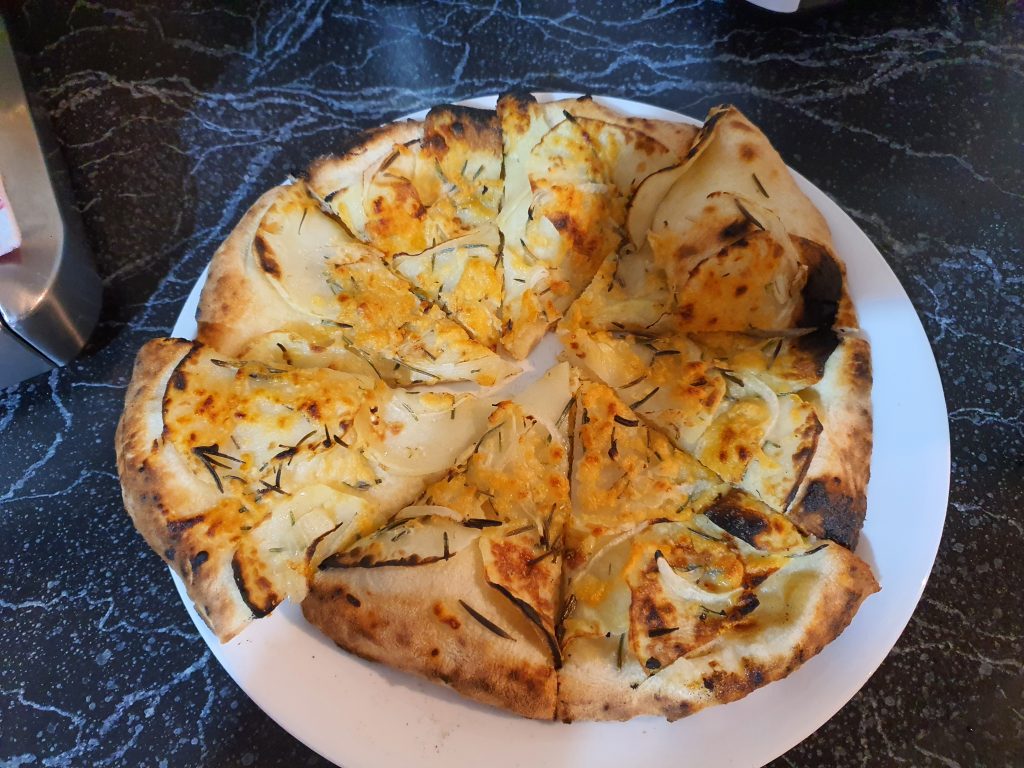 The only real burning that happened with these ones was the potato that somebody (not me) put a little close to the edge of the pizza and it caught in the flames. These pizzas were delicious and they took about 90 seconds each to cook
Summary
So having used this pizza oven for a little while, what do I think of it:
The Good
This thing lives up to it's advertising. It is "portable" although I wouldn't really want to carry it any major distance. I think it is around 10kg which isn't bad but it is unbalanced with most of the weight to the front.
It get's up to temp. It takes about 30 minutes using straight kindling. I am going to try it with charcoal as a base and kindling for the final boost next time I use it.
The pizzas come out really nice. These are a more chewy style of pizza but damn do they taste good.
Build quality. This thing is really well made for it's price point. It feels solid and robust. I am sure it will tarnish with age but only in ways you should expect.
The Bad
Nothing really bad. Umm, it gets a little sooty depending on the quality of the wood you are burning.
The fire constantly needs tending. If you don't keep topping it up you will lose the heat on the stone, although it's very quick to get it back to temp if you do.
Space. This is made for pizza. I am going to try some bread in it, but it won't be a very high loaf. I want to get some good cast iron and try it for a reverse sear after a sous vide for a nice steak but it will be a tight fit.
Good, bad… not sure. This thing cooks pizza fast, 60-90 secs fast. If you have a beer in hand and a conversation going you will burn the pizza. I chuck a pizza in, count to 20, turn it, count to 15, turn it, rinse and repeat a couple of times and the pizza is done.
Would I recommend this? Definitely. If you have the space and the budget, build yourself a proper brick oven, but if you are a firebug who wants a really hot fix and some really tasty pizza this is a great enabler.